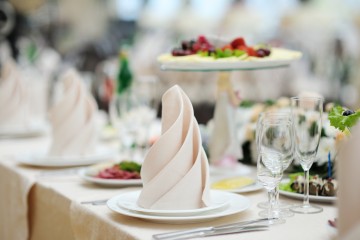 Do you hear the sound of wedding bells in the near distance? Whether it is you tying the knot, one of your close friends or family members, or perhaps even a client that you are working with if you are a party planner, there is no better way to set the mood and create a picture-perfect backdrop for the special occasion than by renting a marquee tent. Available in various sizes from Harts Party Hire, a marquee tent will provide a number of conveniences. With its simplistic design and simple set-up, it is transportable and can even be attached to an existing building to expand space. Before you start decorating for a festive affair, take some tips into account to embellish the marquee beautifully.
Set Up a Stage
When vows have been said and rings exchanged, guests will usually sit around and watch as the newlyweds enjoy their very first dance as husband and wife. Whether a live musician, band or DJ is hired to bring the entertainment, a stage ought to be set up. A focal point, a stage will be the place where visitors make a toast and say speeches, not to mention a place for dancing around when the party really kicks off. To enhance the stage, illuminate it with lighting from a party hire company.
Tables, Chairs and Centre Pieces
How are you going to accommodate guests without ample seating? Conversation can be encouraged if you rent tables and chairs to put inside a marquee tent. Circular tables and high-backed chairs can be beautified when they are draped with clean white materials. For a pop of colour and an eye-catching touch, make the marquee look wedding-ready by positioning centre pieces in the middle of the tables that you hire. These centre pieces could be made from flowers or natural materials, like twigs, berries and leaves, depending on the theme.