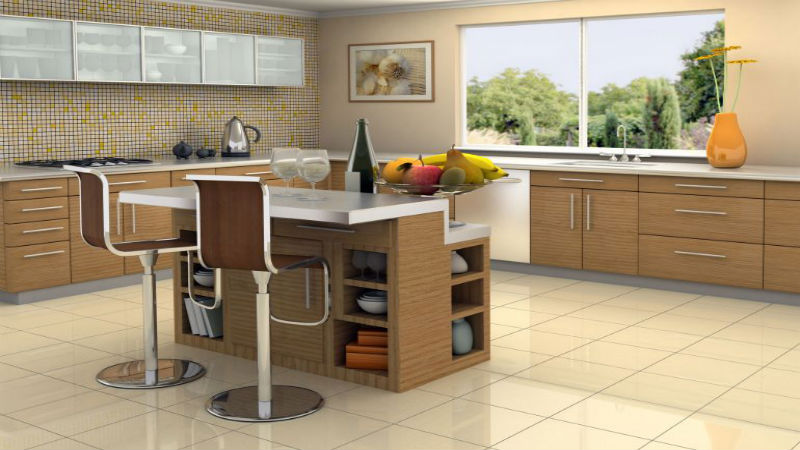 A modern kitchen box is the exact opposite to one of the many traditional styles that are available. While traditional kitchen boxes tend to be quite ornate, using overly elaborate pulls and hinges, modern boxes are always clean lined with little in the way of exotic detail. Modern kitchen boxes are normally fabricated from wood, either solid or laminated, although different materials can be used. Regardless of the finished colour modern kitchen boxes always have a clean, crisp and fresh look.
There are a few factors to consider before buying kitchen boxes. The greatest majority use frameless doors, doors of this design avoid bevelled edges or deep recesses. A noticeable feature of a modern kitchen box is the door; they are normally one very smooth slab although some do use a series of wood slats that are positioned side by side. The carcass and the doors are usually painted or stained the same colour. There is also different opening and closing approaches, traditional cabinet doors open and close on hinges mounted vertically, modern cabinet doors might open from bottom to top, the approach taken for aircraft overhead storage bins, they also might slide.
The handle hardware on modern cabinets normally are quite simple, the same holds true for the hinges; if the y are even exposed, many doors use hidden hinges. The drawer pulls are also simple and sleek, popular designs include thin stainless steel bars and simple round wooden knobs. Rarely, if ever, would you find overly large embossed metal hardware or ceramic style pulls.
There are certain woods that lend themselves nicely for modern kitchen boxes. Knotty pine, although beautiful for a rustic kitchen would not lend itself to use in a modern plan. The choices tend to favour light woods although dark woods or laminates can be used as well, the objective is to maintain a clean, sleek look.
Metal, although not nearly as popular as wood is used for modern kitchens, especially if the homeowner wants to create an industrial look. Many modern appliances; stoves, ovens and refrigerators are available in stainless steel thus stainless steel cabinets are used to compliment the overall industrial look. Metal cabinets and doors that have been enamel coated in any one of a hundred bright colours can also be used effectively.
Clear glass doors are used, especially on those cabinets that are designed to display dishes and other collectables. If you are considering glass doors one of the important factors to consider before buying kitchen boxes is whether the glass is going to be clear or opaque; both look great in a modern kitchen but both have their unique uses as well.
There are numerous factors to consider before buying kitchen boxes. If you are getting ready for a kitchen renovation you are invited to arrange for an in-home design consultation, just contact ZESTA Kitchens and set up a date and time for a designer to visit your home.